Welcome to the UnplugNPlay Experience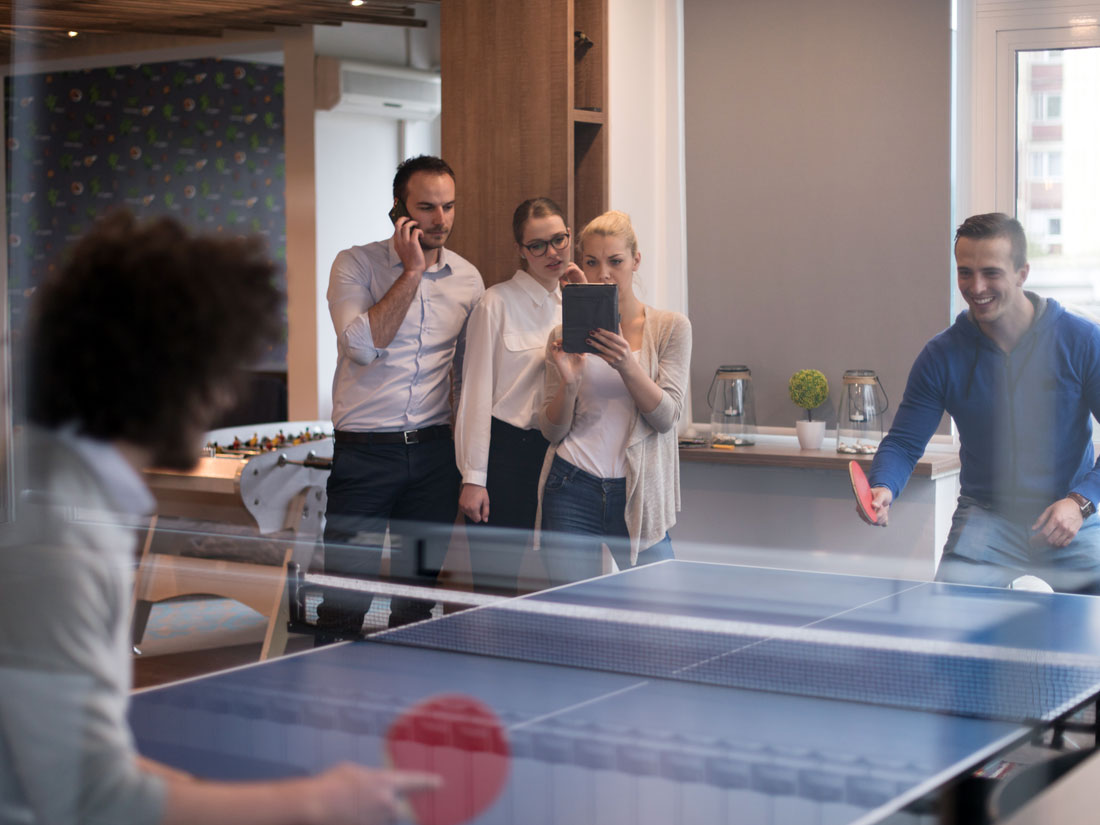 The "UnPlugNPlay" Program
What Does UnPlugNPlay Mean? It means bringing your co-workers together like never before. How long does it take for a team to strengthen social connections and mental clarity so they can collaborate better? About 15 minutes. You heard right – 15 minutes of play is all that's required for people to return to work relaxed, refreshed and ready to collaborate.
The elements of a successful UnPlugNPlay Program include
A full-scale design transformation of a space within your office into an UnPlugNPlay Space
A table that you can customize with a logo and customized paddles for every employees or your clients
Full concierge services for quick reordering of equipment. An app that helps people find players near their skill level or even set up a regular tournament to get people engaged
AND THE SPACE BETWEEN EVERYONE UNDER YOUR ROOF
The UnPlugNPlay Program brings an incredible way to revamp one space in your workspace from top to bottom, transforming it into an UnplugNPlay Zone that features a world-class, highly versatile table from Killerspin.
When they enter the newly designed area, people in your office won't be able to pass up the opportunity to get in a game or two. It's just what the doctor ordered for a workplace culture that needs to dial up the fun and entertainment.
There's ping pong and then there's Killerspin. You can't get a higher quality table than this one. Use it for table tennis one hour and brainstorm meetings the next. But why stop there? Give your Killerspin table some extra style with a customized look that includes your company logo. We'll also provide customized paddles for all your employees or clients – which sends a genuine message on how much they mean to your organization.
TOTAL BONDING WITH OTHERS
WHO WOULDN'T SUBSCRIBE TO THAT?
In a world where people are more connected to their digital devices than other human beings, we have to find ways to make a genuine and meaningful change so we appreciate spending time with one another so much more. Fortunately, you're about to discover a way to do just that and bring your co-workers together like never before with Killerspin's UnPlugNPlay Program.
Activate Your Experience Today!
Our packages are designed for organizations looking to build better culture. Put a customized paddle in every hand and experience the benefits of UnPlugNPlay. Table tennis helps people build authentic relationships and creates positive energy by rewarding hard work with short breaks from electronic devices. Free table, free shipping, and Concierge Service at your fingertips.
Can our UnPlugNPlay program really bring people together that effectively all the time?
We're doing it as we speak
Now it's your turn to UnplugNPlay
Get started by filling out the form below to tell us more about your company.
We'll get back to you with an UnPlugNPlay package that's ready to roll out and revolutionize your space.